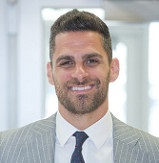 Nicholas Pascale
Director
When most children dreamed of being astronauts, entrepreneurs, or doctors, Nicholas envisioned a different journey: education. Learning early-on about the power of connection from the greatest connectors he'd ever known (Bruce and Barbara Pascale), Nicholas' parents taught him to prioritize relationships and focus his energy on balancing his EQ and IQ. Obtaining
a BA in Secondary Education and History at Palm Beach Atlantic University, Nicholas migrated to Philadelphia to begin his career in education as a SPED teacher for the School District of Philadelphia in 2004. After two years serving the scholars of West Philadelphia's Alaine Locke Elementary two truths were clear: 1) educational inequity is real, pervasive, and destructive 2)
he was 100% bought in to be a part of the solution to help erase this inequity. Eager to develop more effective ways to educate his scholars, he completed his master's degree with an emphasis in Multi-Cultural Education from Eastern University. While taking a class with Dr. Marc Lamont Hill on race and education at Temple University, he was approached by a classmate to apply for an open position at a newly established Charter school in North Philadelphia. This decision to join the national movement of Public Charter schools positioned Nicholas to develop his leadership skills outside of the four walls of his classroom. After 4 years
at Mariana Bracetti, he transitioned his teaching practice from SPED to a middle school history teacher and founded the boys' varsity baseball team along the way before he took a role as the history department chair and 11 th -grade history teacher at Boys' Latin HS. After just one year of serving as the History Department Chair and 11th-grade history teacher, he was promoted to
the role of Dean of Students.  Within the next year, he completed Wilmington University's Principal certification program and assumed the role of Assistant Principal at Boys' Latin. The following year he moved into the Principal role at the newly approved Boys' Latin Middle School. After 13 years in education working in the City of Brotherly Love and Sisterly Affection, Nicholas moved with his wife Naz, to the wonderful city of Dallas. He assumed the position of Middle School Principal at Uplift Mighty where he completed a successful school turnaround in two short years moving the school from a D- rating to a B rating from the state of Texas. Nicholas was then promoted to operate as the Director of Social-Emotional Learning for Uplift's Network which serves over 20,000 scholars over 43 schools spanning 50 miles of the Dallas/Fort Worth Metroplex. In 16 years of Urban Education, Nicholas believes in the ability of all people and the awesome power of a positive mindset. Nicholas possesses a diverse set of
interpersonal, management, and analytical skills to deliver solutions to complex problems. He has a proven ability and fortitude to manage, inspect, and inspire people to execute individual and team initiatives.